For Good Measure
February 1st, 2023, marks the fourth annual Measure A Penis Day celebration. It's time to measure a penis on your body or in your life, and kiss those condom fit issues goodbye. It's the perfect day to tell your friend or lover to get a MyONE® Custom Fit™ sample kit, and check out some of our conversation starters and condom size education below.
With 52 custom fit condom sizes, everyone can feel like they're wearing a sexy custom suit. As one customer said, "Like Dior for my Dick!" No more slippage, squeezing, erection loss because the condom is too tight, or the dreaded red ring of death. MyONE® Custom Fit™ has sizes from snug fit to extra large fit, in combinations of 10 different lengths and 9 different girths.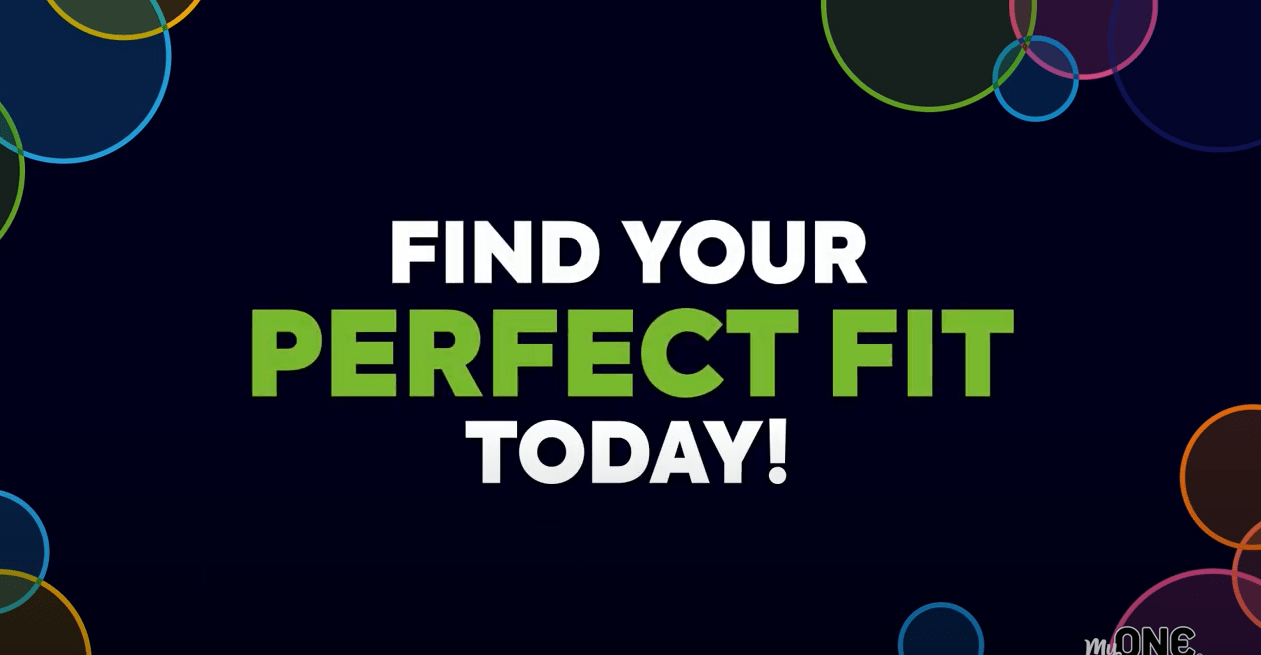 NEW MYONE® SAMPLER KITS
Don't have time to measure? Want to keep a few different sizes in your night stand? Try the Snug, Classic or Large condom sampler! You'll get 3 different condom sizes within each range to test & the FitKit®️ measuring tool.
DOES SIZE MATTER? CONDOM SIZE DOES
The Myth of Small Condom Sizes
Because regular condoms are more than 7 inches long, they are too long for over 91% of condom users. And even "snug fit" condoms are usually the same length, and only a few millimeters tighter, than a regular condom. For many, this results in the condom feeling too loose and/or too long, contributing to condom issues like slippage. Learn how MyONE® Condoms is helping solve this! As one customer said, "Regular condoms are much too long & bunch up at the base of my penis constricting blood flow and often slip off during sex. I was able to find a perfect fit with MyONE that stays in place. I can't believe the difference! I can actually feel sex and my wife says she is much more satisfied!"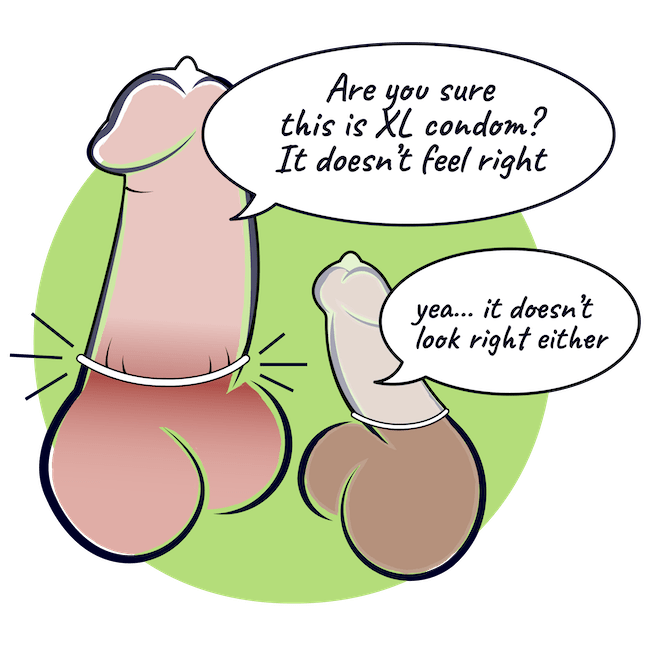 With Large Condoms, XL Can Stand for Just Extra Long
As one customer said, "Literally every single store-bought condom strangled my junk like it was committing a crime of passion after catching it cheating on my left hand." Yikes! Do you ever wonder how to tell if a condom is too small? Did you try going up a size and sample some of the "large" condoms, and still find that the condom won't fit? Even when you try the biggest condom size on the shelf? With MyONE® Condoms, find your proper condom fit for both length and girth. From a happy MyONE customer: "It is the first time in my life where I did not struggle to put on a condom because they are so tight. And, it didn't leave a red ring of death on my penis. I will always recommend MyONE. Frankly, everyone with a penis should be wearing these."
BODY POSITIVE CONDOM CONVERSATIONS
Whether you're a partner, a sex educator, or generally curious about condom size – words matter when talking about condom and penis size. Check out some resources: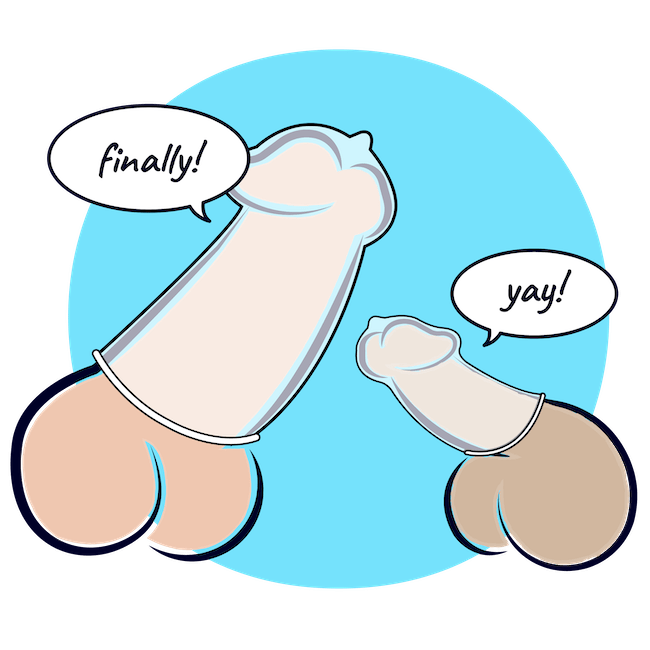 Reviews
"First time I've ever worn a condom that didn't restrict my blood flow and sensation"
"I used to hate wearing condoms, and I had no idea that I needed a larger size. I just recommended your product on a site I am on Reddit, for larger size penis'…"
"A simple review for a simple, no-brainer condom. Other condoms try to complicate things without addressing the two basic things I need: the right size and the right feel. This brand cut right to the chase and solved both. These things are simply amazing!"
"Regular condoms didn't fit me well and it was frustrating me. But then I saw a guy in reddit talk about these condoms and I decided to try it out. And I can say: they fit perfectly! One of the best purchases I've made."
"I ordered a sample kit just to see if they actually fit well and that I measured right, and sure enough it was perfect! I ordered a box the next day. I had never been able to fully enjoy sex with a condom on as it was way to tight. These go on very easy but are still the right size to not slip off. Thank you! I'll never buy other condoms again."
"These are the only condoms that work for my guy and I both. The custom sizes are perfect."
"Perfect fit and best experience with condoms I've ever had. It fit so perfectly that it felt like there was nothing there"
"Condoms that fit and are unlikely to get lost in your partner."
"Why buy off-the-rack when custom is so reasonably priced?"
"myOne improved significantly my sex life. It allows me to just enjoy and do not worry about the logistics down there."
"Never once felt a condom that fit so well. It's not too tight, and not too loose. Plus.. just being honest here.. it's nice to roll a condom all the way down and run out of roll!!"
MEASURING – JUST THE TIPS
What are the most common fit issues with condoms? Which side do ya measure if it's curvy? Do you measure on top or bottom? Get the common measuring questions answered.
GET STARTED
Measure, Sample, Order. First you either measure with our FitKit or a measuring tape. Don't have time to measure? Get a size recommendation by answering just 3 questions. Then you'll see the option to GET SAMPLES, so you can test before you buy or subscribe. Need some help? Contact our super friendly Size Specialists. (Yep, that's a real title.)
Three easy ways to get the perfect fit condom.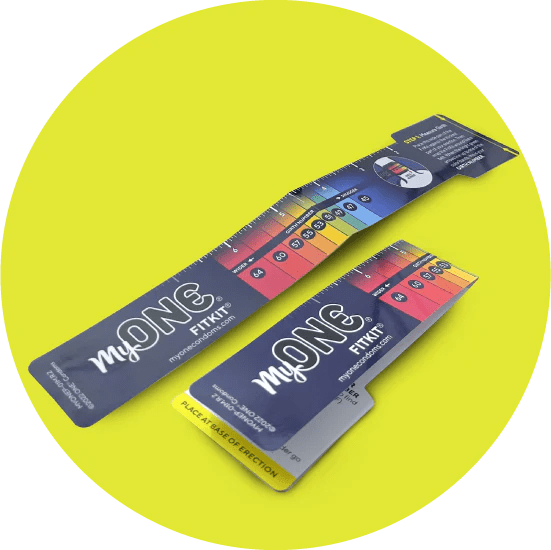 Measure with
the FitKit®.
Print, get it up, measure, and bam!
Get your myONE size code in minutes.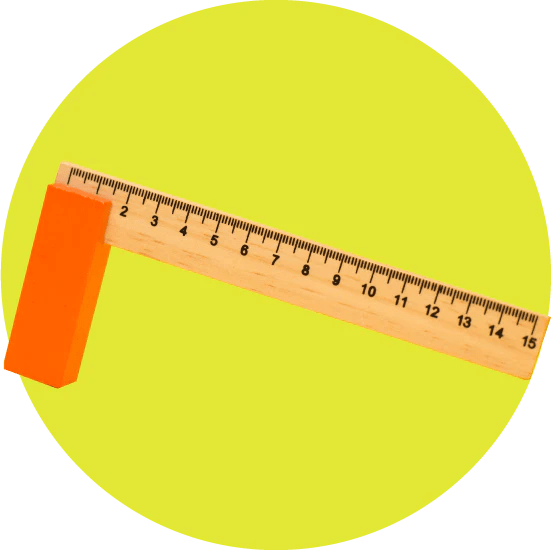 Enter your own measurements.
The old school way to size up your stuff.
Bust out the measuring tape.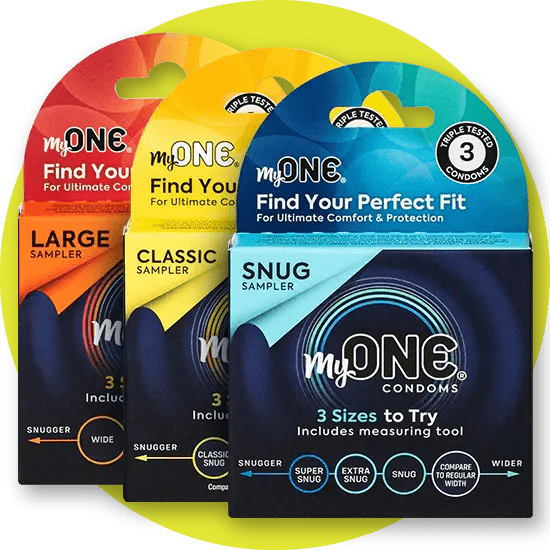 NO TIME
TO MEASURE?
Get a quick 3-count sampler based on prior experiences with regular condoms.