Happy Measure A Penis day !
Who You gonna Measure ?
Okay, it's a holiday we made up. We frequently get questions from people how to measure or how to bring up measuring in a conversation. So why not dedicate a whole day for it? Kicking off Condom Month, Measure a Penis Day is the perfect day to say FU to uncomfortable condoms—and to uncomfortable conversations about condoms.
Whether you've got a penis on your body or in your life, it can be awkward to talk to a partner about penis size and condom fit. But it shouldn't be—and now it won't. Check out some tips below, including advice from myONE customers. With 60 condom sizes, it's time to measure for pleasure.
Does size matter?
Well, condom size does. Problem is, the "standard" condom size is no match for the vast diversity of the world's penis sizes. "Condoms don't fit me" isn't just a complaint to get out of condom use, it's super real for many people. In fact, condoms sold in stores properly fit only 12% of condom users. What if only 12% of clothes properly fit?
The days of squeezing, slipping, bunching (or skipping condoms altogether) are over.
MAKE IT SEXY
If you're a chef or a carpenter, measuring is work. For others (including anyone with a penis in their life), measuring can be fun. We asked our myONE customers for their best advice how to bring up measuring, and here's what they had to say.
"I would love it if my partner told me about fitted condoms and asked if she could measure me. Using the measurement as part of foreplay would be great, especially as an in-the-moment surprise." – Kevin S
"What guy wouldn't want a custom-made suit? You can't have a custom suit without a fitting." – Anonymous
"My partner literally held up two bananas and asked, 'Babe, is your penis more like this or this?' Honestly, it was so funny, I wasn't embarrassed at all."
–Reignbeau Heffer
"Just ask about it, it's not a big deal. We all want shoes and clothes that fit, our condoms should too." – Ken M
"Honey, I believe in accurate measurements. If you need a nurse costume to feel like you're getting full service from your tape measure, I will be happy to do my part for better fitting protection. ;)" – Nate
"I love your penis but the condom's don't fit well on you. I think we could have even better sex with some other condoms." – Big Dick Arino
"I think the best way to approach it is suggesting measurement so that you get the 'perfect size for your perfect penis'." – Beebert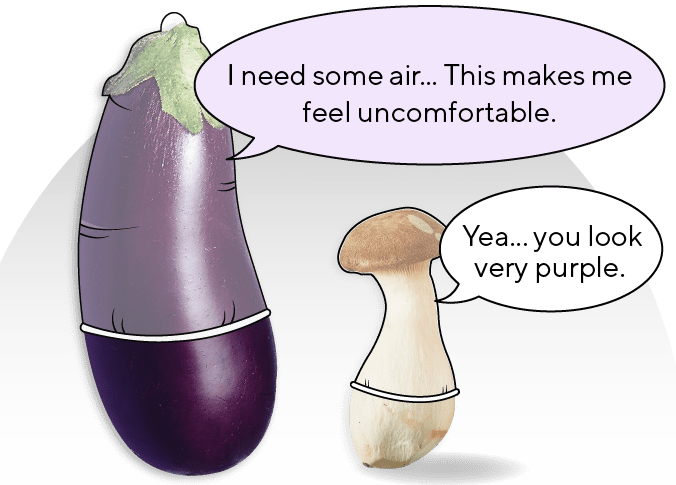 MEASURING – JUST THE TIPS
What are the most common fit issues with condoms? Which side do ya measure if it's curvy? Do you measure on top or bottom? Get the common measuring questions answered.
GET STARTED
Measure, Sample, Order. First you either measure with our FitKit or a measuring tape. Don't have time to measure? Get a size recommendation by answering just 3 questions. Then you'll see the option to GET SAMPLES, so you can test before you buy or subscribe. Need some help? Contact our super friendly Size Specialists. (Yep, that's a real title.)
Three easy ways to get the perfect fit.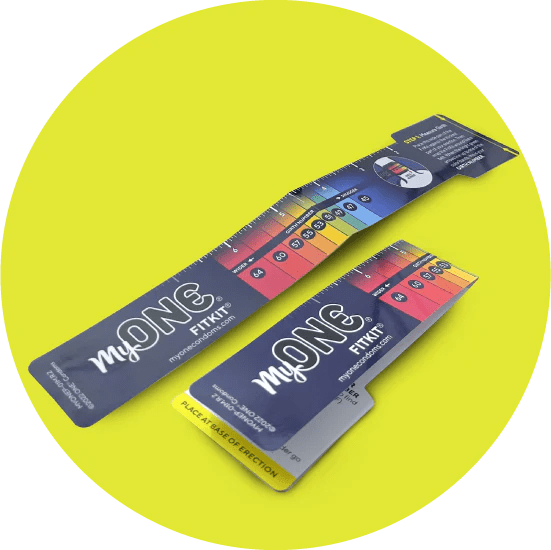 Measure with
the FitKit
Print, get it up, measure, and bam!
Get your myONE size code in minutes.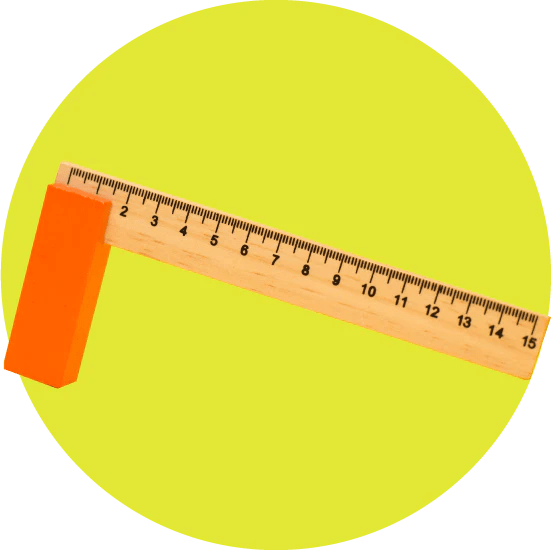 Enter your own measurements
The old school way to size up your stuff.
Bust out the measuring tape.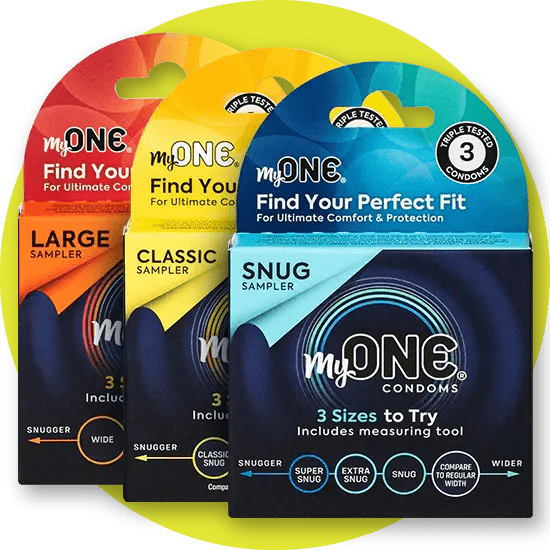 NO TIME
TO MEASURE?
Get a quick 3-count sampler based on prior experiences with regular condoms.
Liquid error (templates/page.Measure-A-Penis-day line 243): Could not find asset snippets/select-a-size.liquid
Liquid error (templates/page.Measure-A-Penis-day line 246): Could not find asset snippets/enter-measurements.liquid