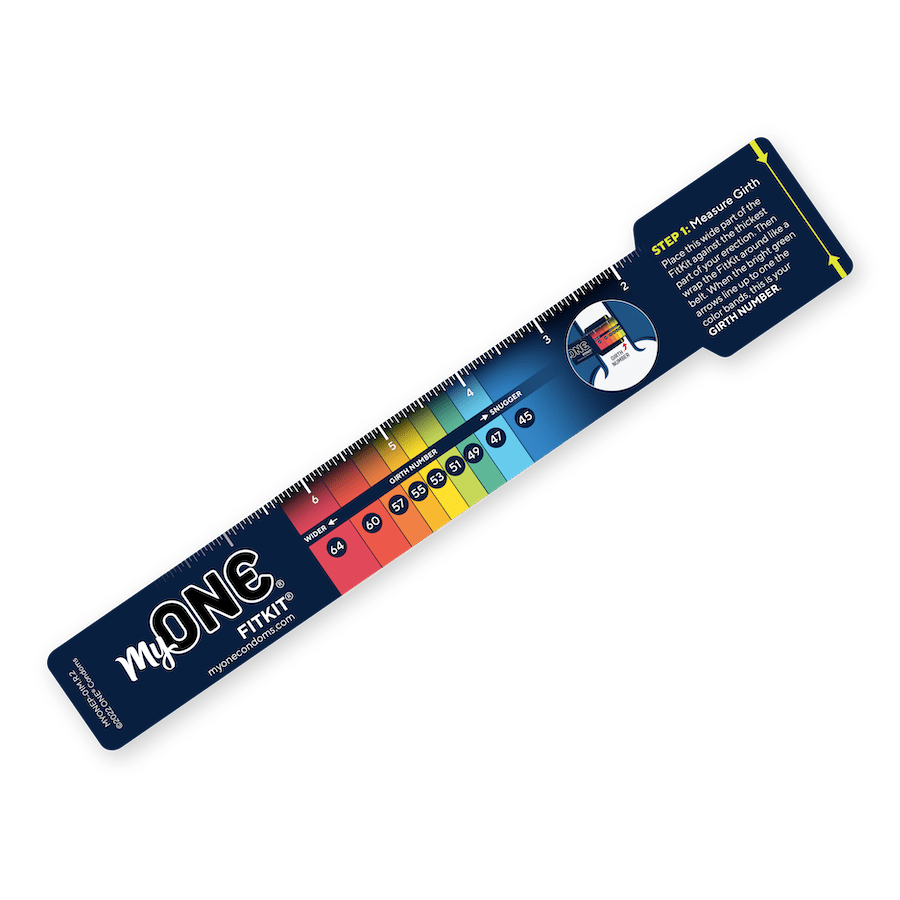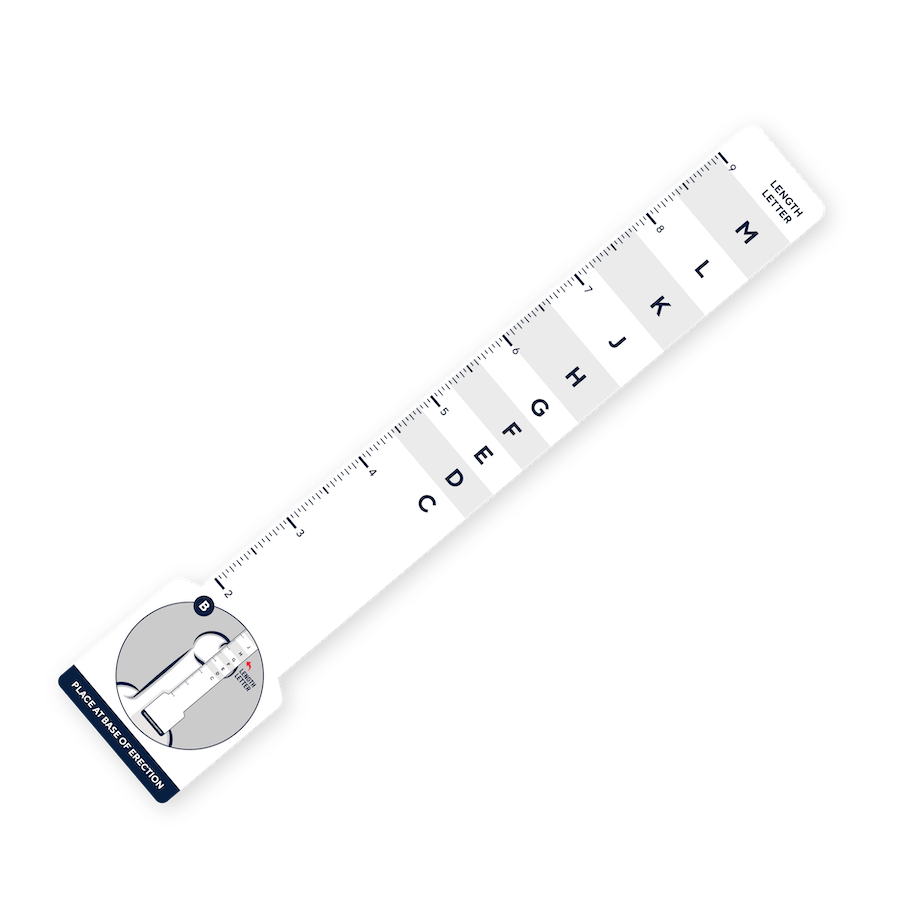 MyONE® FitKit® | 2-pack
FREE Just Pay Shipping
The FitKit® is a great way to find your perfect myONE® size. Just pay shipping & handling and we'll mail two laminated FitKit®'s to you. Or you can download and print the FitKit, here. All of our sample kits also include the laminated FitKit® inside. 
Here's how it works:

STEP 1: Measure girth. Place the square-shaped part of the multicolored measuring tool on the widest part of your erection. Wrap this FitKit tool like a belt until the two arrows line up with a colored band. This band gives you your GIRTH NUMBER.
STEP 2: Measure length. Place the other FitKit tool on top of your erection. Measure from base to the very tip. The letter that aligns with the tip is your LENGTH LETTER. Curvy? Measure on the longest side.
STEP 3: Get your FitCode & order. Combine your GIRTH NUMBER with your LENGTH LETTER to find your FitCode (ex. 49F). Visit onecondoms.com/myone to purchase.
THINK ALL CONDOMS ARE THE SAME? THINK AGAIN.
We spend every day trying to make condoms better.
HUNDREDS OF DESIGNS
MyONE® condoms feature a variety of wrapper designs.
UNIQUE LATEX FORMULA
Sensatex® is softer than other forms of latex. Softer latex stretches and moves with the body, for a smoother and more comfortable experience.
ADVANCED QUALITY TESTING
Every MyONE® condom is electronically tested for safety, and every batch is vigorously tested to surpass the highest worldwide testing standards.
MyONE® HAS 52 CONDOM SIZES

That's right, 52. So you can get the exact size you need, both length and width, to increase comfort and pleasure. Find your perfect fit today and feel more confident tonight.
THE FULL MyONE® SIZE RANGE

10 lengths. 9 widths. One perfect fit for you.

*Study @ Center for Sexual Health Promotion at Indiana Univ. Bloomington **Magnum® is a registered trademark of Church & Dwight Co., Inc. MyONE® is not affiliated with or connected to Church & Dwight Co., Inc or its Magnum® brand.

Combine your Width Number (ex. 53) width your Length Letter (ex. H) to get your FitCode (ex. 53H).
LEARN MORE ABOUT PROPER CONDOM FIT
Condom length and width data source: Herbenick D, Reece M, Schick V, and Sanders SA. Erect penile length and circumference dimensions of 1,661 sexually active men in the United States. J Sex Med 2014;11: 93-101.
COMMON CONDOM FIT CHALLENGES:

LENGTH: Too Long

Regular condoms are 7" long, too long for 91% of people.* Too much extra length can result in a thicker ring of latex choking the base of the penis

1

, or the condom hanging off at the tip

2

.

LENGTH: Too short

If a condom is too short, it leaves the base of the penis unprotected from STIs

3

.

WIDTH: Too tight

Regular condoms are too tight for 70% of people.* This can lead to uncomfortable constriction

4

, a painful tight ring at the base of the penis

1

, and erection loss.

WIDTH: Too loose

If a condom is too loose, it can cause condom slippage

5

.
INNOVATIVE TECHNOLOGIES

From skin-like feel to premium silicone, we have all your needs completely covered.