Love Your Body & the Planet
ONE® is committed to sustainability as a company and as co-habitants of this beautiful planet. We don't pretend to have all the answers, but we continue to work hard to make our products and company more sustainable.
Our New Paper Packaging Tube Is Made From 100% Recycled Material
You may have noticed our new packaging. Good bye plastic! ONE® Condoms are now packaged in a cylindrical tube made of 100% recycled paper. When you're ready to use one of our products, you can just pop off the metal cap and pop on the condom!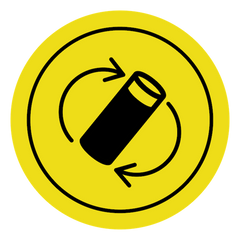 Our Sustainable Condom Factory


We commissioned a state-of-the-art water treatment plant which allows the factory to maximize the amount of water that is being recycled. This also means that any water that is being discharged from the factory is clean. We're also collecting rainwater to assist in cleaning and maintenance, and further eliminate water waste.
Final Takeaway
We are proud to say our efforts are having an impact. However, we are not resting on our laurels and we are not stopping there. We know there is always room for improvement and much work to be done, and that we have an imperative to be a leader in sustainability efforts across the industry. We hope you hold us to our commitment by providing feedback along the way, as we continue to work towards our mission.