MORE THAN HALF OF PEOPLE DON'T FOLLOW CONDOM INSTRUCTIONS, WHICH CAN MAKE THEM LESS EFFECTIVE. DON'T BE THAT PERSON.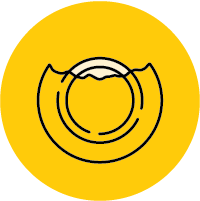 HANDLE WITH CARE.
Tear open the package carefully. Do not use fingernails, teeth, or anything that can damage the condom. Use a new condom for every new act of intercourse. Never reuse condoms: re-use of condoms can result in condom breakage, risk of pregnancy and STIs.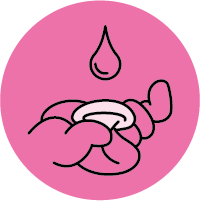 PREPARE.
Remove the condom from the package and apply a small amount of lubricant to the inside tip. MyONE condoms are already pre-lubricated from base to tip. However, using additional lubricant increases comfort and reduces the risk of your condom breaking during use.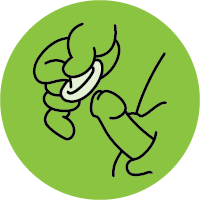 PINCH THE TIP.
Before any sexual contact, place the condom on the head of the erect penis with the rolled side out. If the penis is not circumcised, pull the foreskin back before putting the condom on. Pinch the receptacle tip of the condom between your thumb and forefinger. This prevents air from becoming trapped at the tip of the condom and leaves an empty space to collect semen.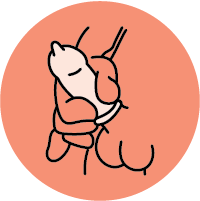 UNROLL.
Unroll the condom down the base of the penis with your other hand. If the condom doesn't unroll easily, it may be on backwards, damaged or too old. Throw it away and start over with a new condom.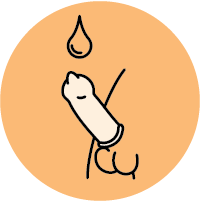 APPLY LUBRICANT.
Using additional lubricant will reduce the risk of your condom breaking during use. Apply to the outside of the condom.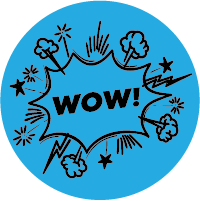 INTERCOURSE.
If the condom breaks during use, stop immediately and pull out. Do not continue until you put on a new condom and apply more lubricant.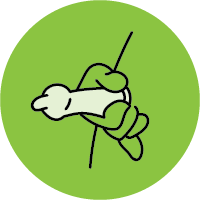 HOLD ON TIGHT.
Immediately after ejaculation, hold on to the base of the condom tightly and pull out while the penis is still erect. This will keep the condom from slipping off and keep any fluids from being spilled.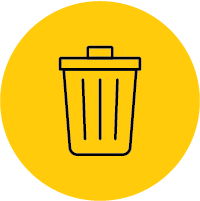 DISPOSE PROPERLY.
Wrap the used condom in tissue and throw it in the trash so others won't handle it. DO NOT FLUSH CONDOMS DOWN THE TOILET. Wash hands with soap and water. For added protection, wash genitals with soap and water.
KNOW ABOUT THESE THINGS
Latex condoms are intended to prevent pregnancy, HIV/AIDS, and other sexually transmitted infections (STIs). Latex condoms reduce the risk of transmitting STIs by providing a barrier against the source of the infection.
Condoms are most effective against STIs such as HIV infection and gonorrhea that are spread by contact with the head of the penis.
Condoms are less effective against STIs such as Human Papillomavirus (HPV) and Herpes. These STIs can be spread by contact with infected skin that is not covered by the condom.
If you believe you have an STI, contact a health care provider. For more info on latex condoms and STIs, contact a health care provider.

DO THESE THINGS...
Put a condom on prior to any sexual contact. Lesions, pre-ejaculate secretions, semen, vagina secretions and blood can all transmit infectious organisms.
Store condoms in a cool, dry place (below 104°) and avoid exposure to direct sunlight.
Make sure there is adequate lubrication.
Use a water-based or silicone lubricant.
Consult a physician before use, if you
Talk to a doctor or pharmacist if you're using any topical medicines that may come in contact with the condom to be sure they won't damage the latex.
DON'T DO THESE THINGS
Don't reuse condoms.
Don't open a condom using sharp objects, fingernails, teeth, or anything that could damage the condom.
Don't use the condom if the latex is sticky, brittle or damaged.
Don't use the condom if the color or the latex is uneven or changed.
DO NOT USE OIL-BASED LUBRICANTS, such as those made with petroleum jelly (e.g., Vaseline), mineral oil, vegetable oil, or cold cream, as these may damage the latex.
Choosing a selection results in a full page refresh.
Opens in a new window.